Getting the Most Out of Your Studies Weekly Account
If you are using the Studies Weekly Social Studies or Science print publications, you already have a subscription to Studies Weekly Online — a robust platform that supports and extends the printed publications through thousands of primary source videos, audio, documents, images and artwork.
If you have a computer or mobile device, you can log in to Studies Weekly Online to use these resources, monitor student progress and assign students' work and assessments.
Register and Login
If you have a Studies Weekly print publication in your classroom, then your online account already exists; you just have to register to activate your access. You can find step-by-step instructions for registering in this article.
Here are some of the different functionalities available to you through our online platform:
Under the Publications Tab
1. Reading and Listening
The online platform includes an audio reader that reads the article's text aloud when you click the play icon. Each word is highlighted as it is read, so students can follow along with ease.
This helps with student comprehension and language acquisition, and can be an important tool for English Language Learners or those with reading disabilities. It also comes in handy when your teacher voice needs a break.
2. Bonus Related Media
Many articles have additional media that aligns with each article or unit. These include images, videos and additional information about the person, event, or topic in the article.
3. Assign, Edit and Customize Assessments
Every weekly unit has correlating assessments. This can be accessed by clicking on the Publications tab and selecting the publication you're using. You will then have the option to activate the test.
When the test is activated, your students can then take it online. While testing, their responses will autosave every time a student types into a field or selects an answer. You can also customize and edit the test. For detailed instructions on doing so, read this article.
Under the Classes Tab
1. Find and Manage Publications
The articles at Studies Weekly Online are the same as the print edition. They function similarly. Just as you can shuffle your printed weekly units around to fit your curriculum needs, you can also change the order of your weekly units.
For detailed instructions on this, read this article.​
2. Monitor Student Progress
The Studies Weekly Online platform includes a thorough reporting structure. To view your list of students, select your class from the right-hand side. Click on the Reports link in the top right corner to access the reports for your class, or access all reports through the dropdown menu under your initial on the right side. Your Student Learning Index data is in this dropdown menu.
These reports give you a clear picture of what your students are working on as a class and how they are progressing individually.
3. Share Student Progress
Parents love to know how their child is doing in class, and you have multiple ways to share this information with parents.
Google Classroom – If your school uses Google Classroom, you can use it to communicate with parents regarding their students' Studies Weekly progress. Studies Weekly Online is fully integrated with Google Classroom.
Parent Accounts – Parents can view their student's progress through their own Parent Account. This tool allows parents to closely monitor how their kids are doing and how they are using Studies Weekly's Online resources.
Exporting Data – You can also export student data to Excel to share with parents individually through handouts or emails.
Under the PD Training Tab
Participate in Professional Development on Demand
Once you have logged in to your teacher account on Studies Weekly, you'll have instant access to a library of professional development articles and videos under the PD Training Tab. You can choose from three different categories, depending on your needs.
In every category, clicking on the module itself launches it right in your browser. You can download it using the link in the bottom right corner of each module. You can also filter the format you need, by using the tabs just above the results in each category.
Use the Search Bar on the LEFT to search for specific professional development. (Using the one on the upper right, searches the entire Studies Weekly Online site.) 
Here's a handy guide to navigating Studies Weekly Online from the article level:

Students
To facilitate the best online learning, all students have their own Student Account. This allows students to work through the online curriculum at their own pace, and in the way they understand it best.
Here are a few key features of our Student Accounts that will keep students more engaged and improve their learning:
1. Humanize History with Audio and Visual Features
While the content at Studies Weekly Online is identical to the weekly print publications, the online content has sound and visual components as well. With thousands of additional videos, images and artwork, your students will feel and experience history.
2. 

Highlighting and Annotating
Not only can students highlight our print publications, but they are also able to highlight online passages of text.
You can make this tool even more valuable as you incorporate highlighting and annotating into your lessons. For example, you can have students highlight the verbs as they see them in their reading, or highlight all of the proper nouns they see throughout the text. This fulfills many ELA standards while also teaching students essential social studies concepts.
3. Take Assessments
Students can take formative and summative assessments through their Student Account online. The weekly reading sections prepare students for the ready-made questions at the end of the unit.
To help students with test-taking skills, the assessments utilize a variety of question types: drag and drop, fill in the blank, true or false, multiple choice, etc. These assessments align with the standards for each state.
4. Earn Rewards
As students complete their reading or listening to the text, they earn virtual coin rewards. Students can redeem their rewards for items for a virtual pet.
5. Access Bilingual Content
English Language Learners make up a large population of our nation's schools. According to the National Center for Education Statistics, Spanish is the primary language spoken at home for 3.7 million students in grades K-12 throughout the United States.
For some states, online reading sections and assessments are available in Spanish. In every state, you can help your ELLs with language acquisition by using the English and Spanish Leveled Readers found in the resources at the bottom of every article.
All of these options can help you cater to your students' unique personalities and learning styles.
---
To start setting up your Student Accounts, register or login to Studies Weekly online.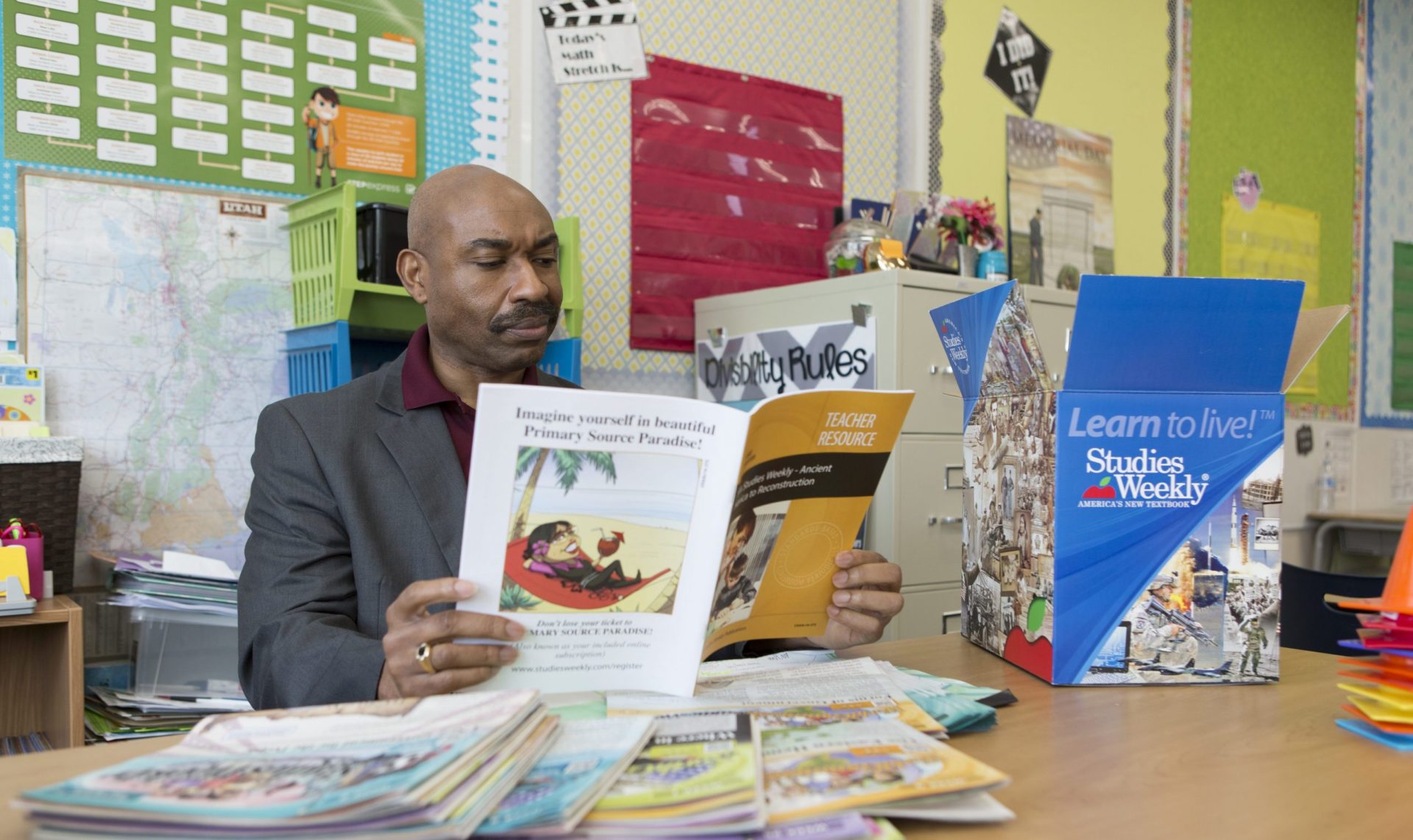 So you've received your Studies Weekly blue box and you're thinking, "Now what?" Starting a whole new curriculum can be intimidating at first, but there's